Dover Sea Sports Centre
Situated on the foreshore of the world's busiest passenger ferry port and harbour, the Dover Water Sports Centre has over a square mile of sheltered water, where they provide practical, water-based tuition in sailing, windsurfing, canoeing, power-boating and keel boats, plus instructor training. This gives the excitement of sea sailing, but in a safe environment. Also offered shore-based courses – First Aid, VHF Radio. etc. They provide group sessions, courses, or private tuition tailored to the needs of customers of all ages and ability. Courses range from beginners to advanced, and include corporate fun days out and team building. They also provide Keel Boat training using our MacWester 26, the yacht Wongga. The Centre has a wide range of dinghies, including Toppers; Topaz's, Taz's; Lasers; Wayfarers; Laser Stratos. It also has windsurfers and a range of rigid inflatable boats.
For more information visit
www.doverseasports.co.uk
Royal Cinque Ports Yacht Club
Dover is one of the Cinque Ports, which were nominated in historical times to provide ships and men for the defence of the country, in consideration of which they were granted certain privileges particularly in regard to taxation. The club was founded in 1872 and moved to its present premises situated on Dover's seafront following the destruction of the original club premises by enemy gunfire in 1940. Since those days the club has considerably widened its base and now membership is about 500. The Duke of Connaught, who had been Commodore from 1872 was largely responsible for obtaining the Admiralty Warrant from his mother, Queen Victoria, so that members of the Royal Cinque Ports Yacht Club who comply with special conditions can apply to wear the Blue Ensign.
For more information visit
www.rcpyc.co.uk
Hythe & Saltwood Sailing Club
Situated just off the large shingle beach at Hythe, Hythe and Saltwood Sailing Club provides great facilities for sailing and windsurfing in an informal, friendly environment. A real 'family' club, we welcome visitors and new members alike; you'll soon feel 'part of the family'. The sailing and windsurfing at Hythe is excellent, ranging from those warm, flat days, ideal for beginners, to demanding force 8 gales; enough to test the most proficient windsurfer. Usually, however, conditions are a more sedate force 2 to 4 in the prevailing south-westerly winds.
For more information visit
www.hssc.net
Sandwich Bay Sailing & Water-Ski Club
Established 1963. Situated on the Sandwich Bay private estate. ...the club also has for its members the use of a 6-person Banana, a double Ringo, and three Topper dinghy's.
For more information visit
www.sandwichbay.co.uk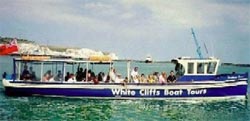 BOAT TOURS
See the fantastic sights of Dover from aboard our 70 seater passenger vessel "Southern Queen".
Enjoy our commentary on the history of the Port and Town whilst seeing the famous White Cliffs of Dover, Dover Castle, Shakespeare cliff, the English channel, visiting cruise ships, Dover Lifeboat, Dover Harbour Board Tugs and vessels, all the workings in the port.
DIVING
Taurus Diving Ltd - Working mainly as a dive charter company operating out of Dover, we offer the ideal opportunity to dive on hundreds of wrecks in the English Channel. We also offer a wide range of services from: Angling trips - General Work Boat contracts - Film and TV crews and even scattering of ashes.
ROWING
Dover Rowing Club - 1996 was the 150th anniversary of the founding of Dover Rowing Club, making it the oldest coastal rowing club in Britain. Our Goal is to promote and develop Rowing as a sport for all groups within the local community.
For more information visit
www.doverrowingclub.co.uk
FISHING BOATS
Wreck and ground fishing charters in the English Channel.
For information on fishing charter boats visit
Fire Fox